First of all, MUSICIAN audio team is very sorry to the customers for the trouble caused by the recent Youtube review for PEGASUS(https://youtu.be/qH0MY044X8Q) .
In the past few days, Pegasus users have been asking us what we think of this review, so our team feel it is necessary to clarify what happened.
Regarding the sound quality of MUSICIAN, we do not want to make any official comments, because there are already many users of Pegasus, the feedbacks from them are the best and most valuble.

The following is a record of our marketing manager(Willing) and NBT email exchanges:
1) On September 16th, we received an email from Next Best Thing Studio saying that there was a problem with the 24bit optical input of PEGASUS.
2) Due to the time difference between two countries, we saw the email on September 17th, and immediately asked our engineers to conduct all tests on the Pegasus. The test results from engineer were all normal. There are 7 AP test charts in total, we informed NBT by email and sent those test results by attchement at the same day.
3) On September 18th, NBT email saying that the problems with optical fiber did exist but USB is fine. I communicated with our engineer again for two days. They told me that this situation is not 100% a Pegasus problem, it may be a source or player problem, etc. We did not mentioned them to NBT because we don't want to sound like a excuse.
4) On September 20th, we decided to get this unit back to China since the engineer said they must to conduct a comprehensive inspection to find the problem on the unit. So we send emails to NBT ask for the send it back and promise to send a new one if the unit is defective, we also give them the return address and sincerely asked about the return shipping cost.
However, we did not receive any response from NBT after that, until this Youtube review appeared on the 23th all of sudden.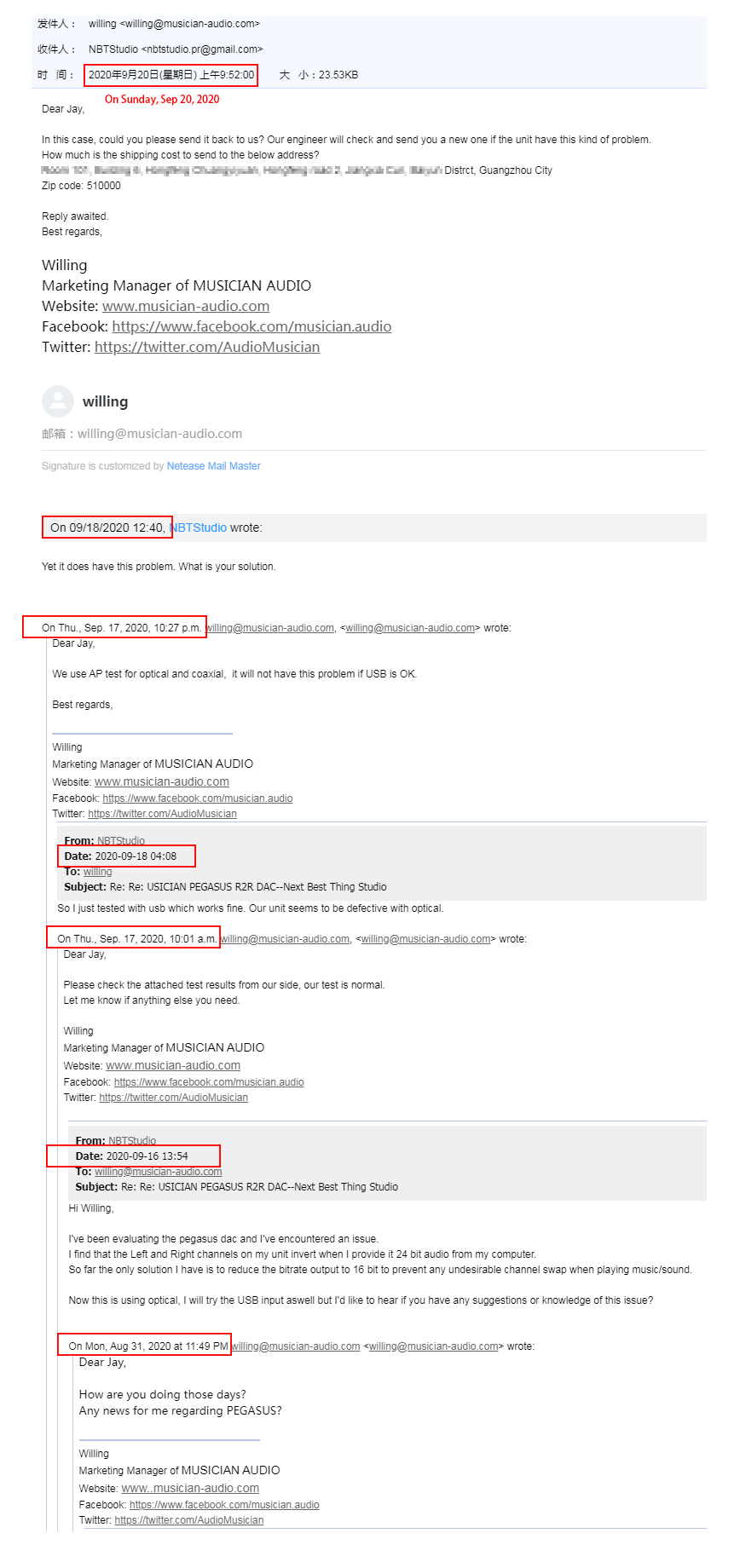 This Youtube review talked a lot about our after-sales service and warranty terms. We think it is necessary to clarify:
Firstly, our official website already have the after-sales warranty service policy before we published the PEGASUS, with clear instructions for 30 day returns and three years warranty: http://www.musician-audio.com/en/col.jsp?id=115
Secondly, the User's Manual also contains warranty terms. The electronic file manual is avaliable to be downloaded through "Technical Support" on MUSICIAN website. It contains three languages (Chinese, English, Japanese). The clearly instructions of after-sales service is in the last page. Of course, except the first batch of neutral packing, the products also came with this manual and a warranty card. Users who have already received the goods can check and confirm.

Thirdly, the customer service response time: due to the time difference, our team may not be able to respond immediately, but we promise that any questions will be answered within 24 hours from all sales channel (Except China statutory holidays).

For any suggetsion or complains for the after-sales service, please feel free to contact with info@musician-audio.com

Customer first. Service first" is our company aim.

MUSICIAN Team